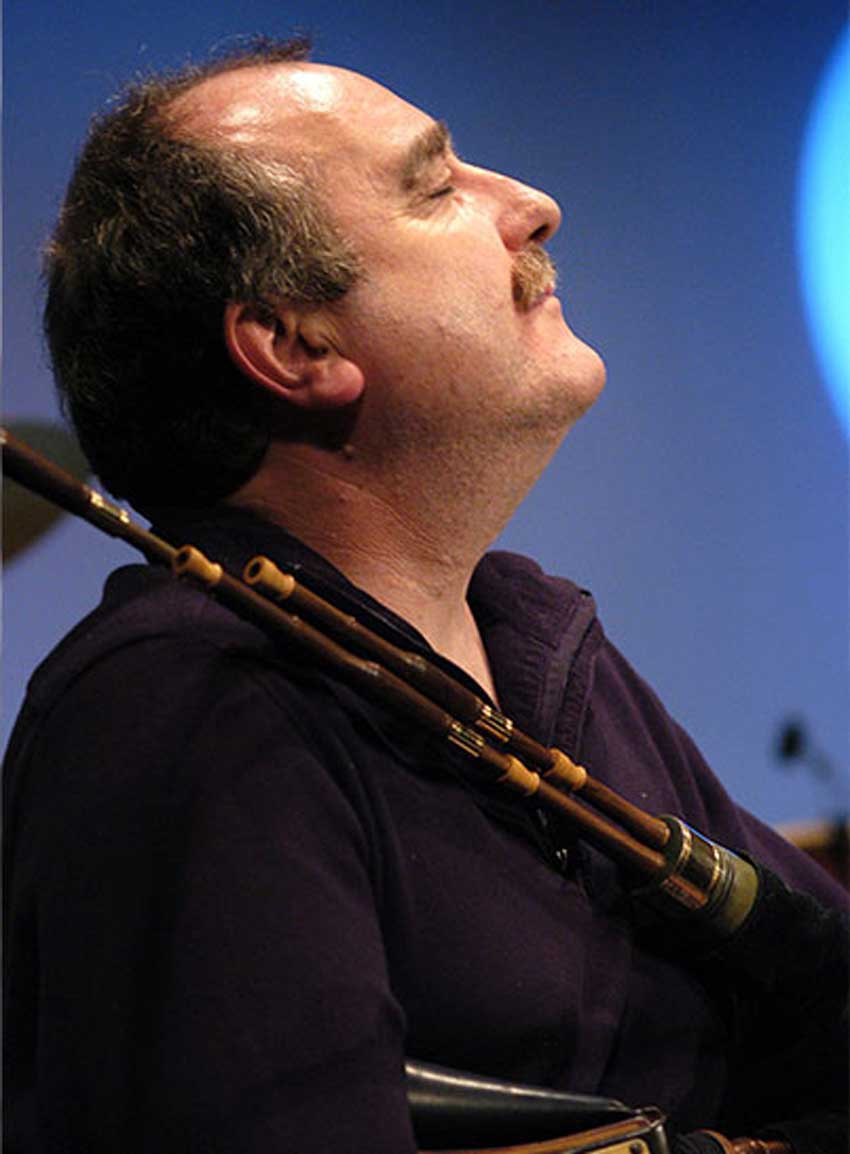 About Allan Macdonald
A leading light in the Gaelic musical scene, Allan MacDonald is in demand internationally as a composer, musical director, piper, singer, workshop leader, and lecturer on Gaelic music. One of his myriad gifts is to make pibroch accessible and lovable. His work as a scholar-performer reuniting seventeenth-century piping with its Gaelic roots is influencing a whole generation of pipers.
Allan has performed at every major Celtic and piping festival on the planet. He lectures on the Scottish Music course at the Royal Scottish Academy of Music & Drama, and has had numerous commissions to compose for BBC television. In 1999 and 2004, Allan directed two pioneering series for the Edinburgh International Festival, presenting every aspect of the piping tradition in 13 concerts, linking music with Scottish history and culture. In 2005, he co-directed a six-part television series screened on RTE, BBC3 and ITV—"The Highland Sessions"—addressing the common language and musical traditions of Scotland and Ireland, which won the best documentary music award in Ireland.
The BBC made a documentary on Allan and his brothers, Dr Angus and Iain (also world-famous pipers), broadcast in January 2007. The three brothers were born in the tiny Gaelic-speaking township of Glenuig in Moidart. Allan won the highest award in piping, the Clasp at the Northern Meeting, two years running (1989 and 1990). He then followed his heart and developed a style of playing more in tune with the Gaelic culture of 1550-1750. His approach is infused with an insider's ear for the fragile traces of historical continuity that survive within Gaelic-speaking communities, and he attempts to reverse the effects of post-Industrial sanitisation and cultural colonialism.
This freer, more varied, and historically-informed approach to ceòl mór may be too novel for some judges, but to many minds it makes the 'great music' more appealing. When Bill Livingstone (another double Clasp-winner) retired from the competitive circuit in 2006, he commented, "Thank goodness I didn't hear Allan's interpretations before, they would have been the ruination of me!"
In 1995 I presented a thesis on The Relationship between Pibroch and Gaelic Song: its Implications on the Performance Style of the Pibroch Urlar to the University of Edinburgh. You can read this thesis by clicking here. (Please scroll down for more).
Also in 1995 I was invited to give the John MacFadyen Lecture in Stirling Castle.
"The single most important living source of Gaelic musical culture."
John Purser
"Allan has made more impact than anyone else in his generation."
Bill Livingstone
"Great emotion, flair and style that is always inspiring, challenging and often breathtaking."
Roddy MacLeod
"Allan is a peerless artist whose music transcends medium."
John Wallace